We are reader supported, and earn a small fee when you click on a link.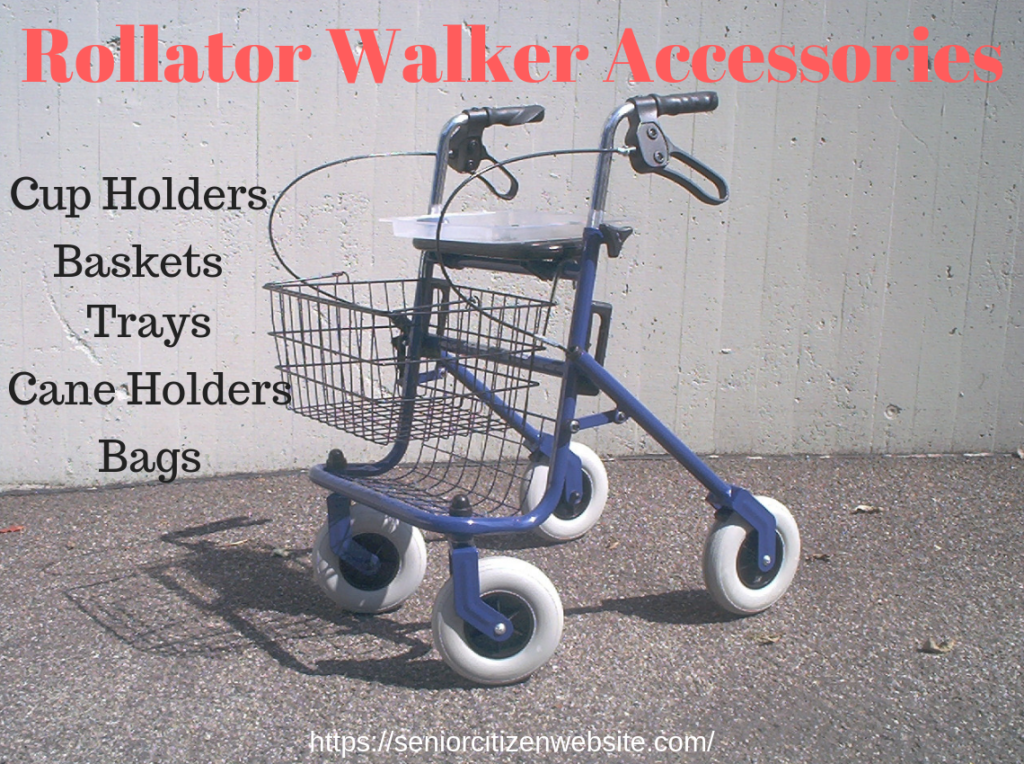 Using rollator walker accessories can make your life easier. The use of a walker, rollator or even a wheelchair or transport chair is sometimes hard as it is, but with the use of things like cup holders, baskets, bags, and cane holders we looked at on this page, you can make it more into convenience for you.
Although I was not able to look at all the available rollator walker accessories, since there are simply too many, I tried to find the ones with the highest customer ratings and the ones that are sold the most and at an affordable price to help you in finding the rollator and walker accessories that fit your lifestyle.
If you are looking for a walker you can have a look at the light weight walkers I reviewed here.
---
Walker Cup Holders
There is a variety of cup holders for walkers and rollators. Many of them can also be used for wheelchairs.
There are clip-on cup holders and the ones that you have to clamp on. I tried to find the Best cup holders for walkers and rollators.
---
Robocup cup holder in 12 colors

The reason I put this one first is that is very versatile and can be used on many other things than a walker or rollator. I have seen pictures that it was attached to golf carts, boats, microphone stands, wheelchairs, beach chairs, and many other things.
The results were surprising with 1100 people who use this cup holder and gave it an average of 4.6 stars out of 5. The highest rating I could find for the accessories for walkers for the elderly.
What I also like is that it is available in 12 colors and that makes it in my opinion possible to find one that fits your style.
You can find the price and more information here.
---
Think King Cup Holder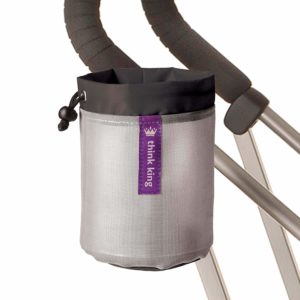 The think king soft cup holder is large enough to hold a 32 oz bottle. This is another cup holder that is very versatile and can be used on many other things than walkers or rollators. I have seen them used on strollers, bicycles, and even bed frames.
Attaching it seems to be very easy with the hook and a loop strap that is made of Velcro and is long enough to attach to about anything.
I found an average of 4.1 stars out of 5 for this soft flexible cup holder and I found that it is easy to clean also. Just rinse and air dry will do the job.
The only thing I found is that it is not mending to be used for hot beverages.
You can find the price and more information here.
---
Sheer Living Cup Holder

The Sheer Living cup holder still received a 4-star rating from almost 200 buyers. This does not mean that it is less good in my opinion.
I found that most people were very please with the way it attaches to the walker, rollator, wheelchair, and many other products. The clamp tightens very well.
The cup holder itself got some mixed opinions. Some people loved it and had no problems with it and some others did not like the way you have to open it and then after putting your bottle in it slide the side to lock it again.
I suggest that you read the comments and have a good look at the pictures to find if this one will fit your needs.
You can change the angle of the mount to fit also on parts that are not vertical and that is in my opinion a big plus.
You can find the price and more information here.
---
Walker Baskets
A walker accessories basket is the second product I will have a good look at.
Some of them are basically only for walkers but many people also use them on their rollators.
I looked at the 3 best walker baskets but there are a lot more available.
Health Smart Walker Basket

This basket is also called a universal basket for walkers and comes with an insert that contains a tray and a cup holder.
The dimensions are 15 x 4.5 x 2.5 inches and is made of rust-resistant material. Rust-resistant does not mean rust-free so try to keep it dry to make it last longer.
I found reviews of over 470 people who actually bought this walker basket and they gave it an average of 4.1 stars out of 5.
There are no tools required to assemble the basket to your walker or rollator. Just use the straps on the front of your walker and it will stay there.
This basket is great to place your drink, glasses, cell phone, books, medicine, or any other small item and bring it with you where you go.
The tray will prevent items to fall through the basket. The weight of the basket is only 1.2 Lbs thanks to the used materials.
You can find the price and more information here.
---
Drive Medical Walker Basket

Without a doubt, this is one of the most sold walker baskets I could find.
There were over 1200 buyers that I could find and left a review of this basket. The overall rating was 4.2 stars out of 5. Not much different than the other brands I looked at.
Since the basket is attached to the front of the walker it does not interfere with the folding of the walker and you can still put it away that way.
The dimensions are 16 x 5.8 x 7 inches. A little larger than the health smart above and that is maybe why it is more popular.
I read it is best to be used with a walker that has 1-inch diameter tubes but I think most of them are that size.
I read someone taking this on her walker to the store when she did grocery shopping for just a few items and liked it very much.
Someone else used to bring a jug of water from the kitchen to the room and this shows that it is pretty sturdy.
You can find the price and more information here.
---
PCP Wire Basket

This basket is maybe not a major brand but it is still a good product with 4 stars out of 5 from over 100 buyers and real users of this walker that according to the manufacturer is great for use on a dual release walker like most of us use.
This one also comes with a plastic insert tray to prevent things from falling off the wires of the basket and also prevents spills from drinks.
There are no straps but all you do is just hang it on the walker and the side brackets will support it on the walker's legs. Since the hook is in the middle it will basically fit also curved walkers I read. Many people mentioned that they love the fact that it is easy to install and remove.
Since the bracket also rests on the legs it will interfere with folding the walker. Keep that in mind if you tend to fold your walker up after use.
You can find the price and more information here.
---
Rollator Walker Tray
Rollator accessories Trays are also searched for by many people who use a rollator or walker. This is because a lot of people use their walkers to move things or even sit down with them. An average walker tray most of the time comes also with a cup holder.
Since there is not too much to tell about a tray holder for a walker I will keep this short and will just give an idea about what I think are the best buys.
---
Yunga Walker Tray

Someone mentioned that this is also called a Yunga tart walker tray and I can see why.
I was also surprised by the large number of people who use and or looked for it. I found almost a thousand people who bought it and took the time to write about it.
I found an average of 4 stars for this serving tray to attach to your walker.
You can find the price and more information here.
---
Nova Medical Tray


At first, I was not going to write about this tray since it only had 3.9 stars and basically I do not waste my or your time on products under 4 stars. I found however too many people who liked it very much and I want to give you a choice.
The only problem is that I found that it is only guaranteed to fit the Nova brand walkers and that if you have another brand it is up to you to figure out if it will fit or not.
I read that some people were able to make it fit their brand by drilling some new holes.
The dimensions are:
10.5 inches wide
16.1 inches long
1.25 inches deep.
Maybe this will help you in finding out if it will fit your brand walker.
You can find the price and more information here.
---
Drive Medical Universal Walker Tray


This is called a universal walker tray and it comes from the Drive Medical company.
The dimensions are:
23 x 17 inches and 1.5 inches deep. This should help you find out if it is really universal and fits your walker.
The tray is made out of durable plastic and contains one cup holder. The size is large enough to help you take things around the house.
The weight is 5.6 ounces and that is not heavy and should make it also easy to remove from your walker.
I read that it also can be used even if you use one of the baskets that we looked at before and that makes it even a more universal product.
You can find the price and more information here.
---
Cane Holder
Many people who use a cane in and around the house also use a walker when they leave the house for walking and then again use the cane when they arrive again.
A cane holder for a walker, rollator, or wheelchair is one of the very nice Walker accessories and should not be missed in this article.
---
Nova Cane Holder

The Nova cane holder for the rollator and folding walker does not need a screwdriver to be installed. Just to make sure that you know that your walker had the right size tubes and it will snap on. It might cost a little force but that keeps it secured.
Make sure your walker has round tubes and is not oval since it will not fit them.
To snap your cane in it all you need to do is twist it and it is secured in the cane holder.
The more negative reviewers wrote that it will not stay attached if you use it and will only work with the right size cane.
You can find the price and more information here.
---
Cane Tube Cane Holder


This Tube can holder is made of lightweight but durable ABS plastic and as far as I know, this means it is a plastic that does not break easily and can withstand being hit on.
Like any product, it is not easy and actually impossible to please everyone. This Tube cane holder is no exception. Although the average of 3.7 stars would make you think it is a bad product I found out different.
The users rate it from great and perfect to use to other people who do not like it at all. On average it is rated as an okay product with still over half of the users giving it a 5-star rating.
Just look at the diameter of your cane and also at the rubber tip if it fits the can tube opening of 1.24 inches. If your cane or tip is wider it will not fit.
You can find the price and more information here.
---
Folding cane holder

I realize that there are many people who use a folding cane and they have a different needs for a cane holder. Reason to have a look at this folding can organizer that I think you can still use on your walker, rollator, or wheelchair. Sorry for the small picture but that was the best I could do at the moment
The fabric is waterproof and that makes it a little stiff to use but it is very strong and well made in my opinion.
One tip I found is that it is easier to use when it hangs on the inside of the walker instead of on the outside.
Cleaning and washing are easy. The velcro makes it easy to attach.
Can also be used to take other things with you than just a cane.
You can find the price and more information here.
---
Rollator Walker Bags
Rollator walker Bags are commonly used and I will have a look at the highest-rated ones I could find. Some people also call them pouches or storage bags and they come in a variety of colors and shapes.
Vive Walker Bag

This is one of the best sellers in this category and I could not find too many low reviews of this rollator and walker bag.
The manufacturer claims it fits all style walkers and I could not find anyone who mentioned it did not fit so he must be right.
Comes with a large compartment that can be closed with a zipper.
The adjustable loops can be adjusted to all types of walkers and allow an easy attachment to the walker. There are 7 individual loops to assure this is done right.
although the material is lightweight it is waterproof. It can be washed in the washer and it is best to be air-dried.
You can find the price and more information here.
---
Walker Bag With Soft Cooler

Like the other ones this walker bag also comes with a zipper closable compartment. the difference is that this compartment is ideal for products that need to stay cool. Things like fruit, dairy products, or your diabetic supplies.
There is a separate compartment inside that you can use for your keyring and also an apartment for storing debit or credit cards although I do not recommend that.
The front storage that is secured with a zipper can be used for storing your cell phone in a secure way.
The overall size of the walker bag is 18 x 10 inches. Large enough to be used for multiple uses.
You can find the price and more information here.
---
Universal rollator bag

This universal rollator bag is also from the Vive company and is also called a travel tot for wheelchairs, walkers, and transport chairs.
I found almost 400 reviews that gave it an average of 4.5 stars out of 5 to give. Pretty good rating for this bag.
This large bag measures 12 inches wide and 12 inches high with a depth of 4.5 inches. The front has three separate compartments that can be used for everyday items like drinks, glasses, or your cell phone.
The back comes with two mesh pockets for extra room.
The interior is secured with a zipper and can hold a lot of items like a purse or a change of clothes or even your medical supplies.
You can find the price and more information here.
---
My take on rollator walker accessories
I hope these rollator walker accessories I found and reviewed are helpful for you. I spend a lot of time doing this review but I also realize that I probably missed a lot of information.
Overall I think that the Rollator Walker Accessories in this post can be very helpful but you still need to do your own research to find the one that fits your specific situation.
Most of them will also fit on the Beach Rollator I looked at and makes your day on the beach even more enjoyable.
Feel free to add your tips or advice in the comments to help our readers.
Eddie Vandam
Eddie Vandam realized when he was getting older that it was hard to find information about products for seniors and decided to share his experiences here on the website to help others. Read more.