We are reader supported, and earn a small fee when you click on a link.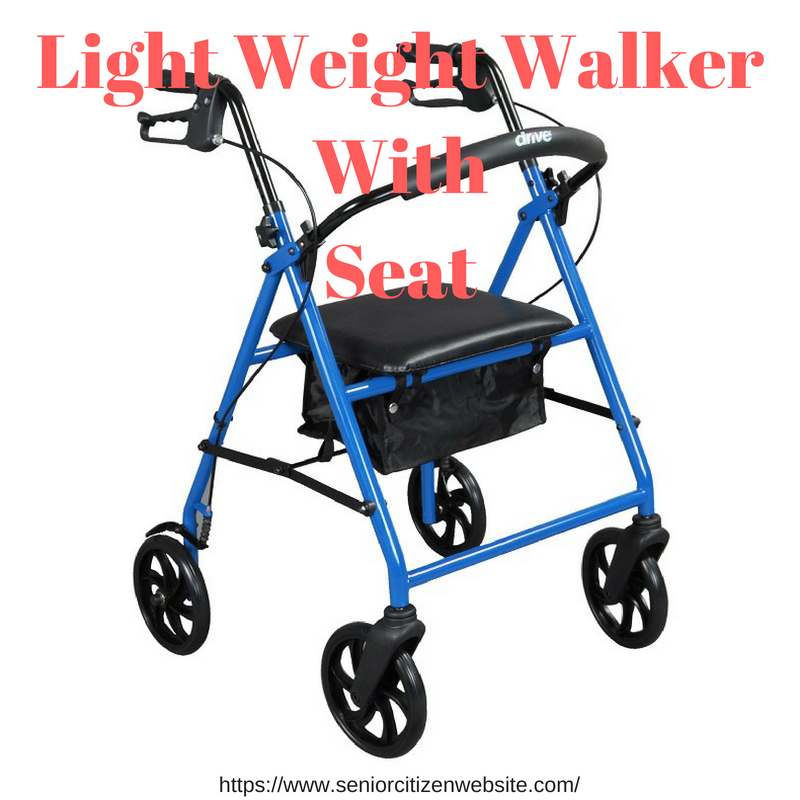 A lightweight walker with a seat is much easier to use. Not only is it more convenient to move around obstacles but because of the reduced weight also easy to lift and place in your car. The only thing you have to take into consideration is that they are not able to carry as much weight as the heavy-duty rollators.
Our top 3 recommended light weight walkers with seat
I have been looking and reading a ton of information about what would be the best lightweight walker that comes with a seat. Things we looked at were the ability to adjust the height, quality of the used materials, and most important. What did actual users have to say about them in all the light weight walker with seat reviews we found.  You can also have a look at the available walker rollator accessories to see if those can help you.
Medline Mobility Walker
By reading all the customer reviews of this light weight walker we realize again that it is impossible to manufacture a product that will please everyone.
But with an average of 4 out of 5 stars, it fits in the standards we use before even looking at a product. 81% of the users gave it a 4 or 5-star rating and were very pleased with this freedom mobility folding walker.
Let's have a look at the features of the walker.
Weight 16.5 pounds
Aluminum frame
Wheels are 6 inch
Adjustable arms
Adjustable seat
The height of the seat can be adjusted from 18 – 23 inches. This is a nice range and makes it usable for many people with different heights.
The overall height of the walker can be adjusted from 29-36 inches and again this is good for many people.
Like all lightweight walkers, the downside is that the weight it can carry is a little lower. The Medline freedom mobility walker can be used for people up to 250 Lbs.
Available in the colors: Smokey Blue, Burgundy, and Black.
Click Here To See The Price
Healthline Light Weight rollator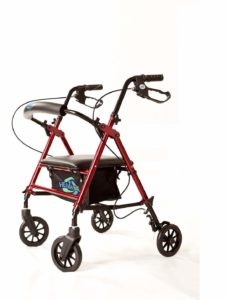 This lightweight walker with the seat from the Healthline company is rated a little higher with an overall 4.1-star rating from over 220 actual users of this rollator. That means it fits in our product standard of 4 stars or more before we even look at a product.
This walker is a little lighter than the Medline with its 14 pounds. Let's have a look at some of the other features it offers:
6 inch wheels
Adjustable height
Safety breaks
It was a little harder to find all the details on the sales page but here they are. The walker is basically 24 x 24 inches. The seat can be adjusted from 18.5 to 22 inches in height. The handle height is adjustable by adjusting the legs and or the handle itself.
Available in the colors Red and Blue.
Medical rollator light weight walker

This rollator walker is called a Euro-style but I got no idea why. It looks a little different than the other two we looked at above but comes with some nice features.
I like the fact that you walk more between the back wheels and I guess that gives more support. Let's have a look at the other features that this compact folding walker has to offer.
Adjustable height
Weighs 17 pounds
8 inch front wheels
7 inch rear wheels
Can hold up to 300 LBS
The seat height is 21 inches and as far as I can see not adjustable. That might be a con for some people. The height of the handles can be adjusted from 31 to 36 inches.
Although this walker does not get as many stars as the other two we added it to this lightweight walker with seat review because after reading all the reviews we think it should be rated a little higher.
How to choose a rollator
Some people call a rollator also a walker but there is a difference between them although they are both designed to help people with walking.
A walker does not have wheels and rollators have wheels.
Finding the right rollator is very important and giving this a little thought can save a lot of problems later down the line.
Make sure that the height is adjustable to the height your body size needs. This is very important if your height is not standard but you are a little taller or shorter than average.
If you like to use one of the lightweight walkers with seat as we reviewed here it is also important to look at the height of the seat and if this fits you.
Walker can also be useful after hip replacement and I have read people used one for a while after knee replacement surgery.
I hope this post helped you with finding or knowing more about lightweight walkers with seat let us know if we can answer any questions you have.
Eddie Vandam
Eddie Vandam realized when he was getting older that it was hard to find information about products for seniors and decided to share his experiences here on the website to help others. Read more.