We are reader supported, and earn a small fee when you click on a link.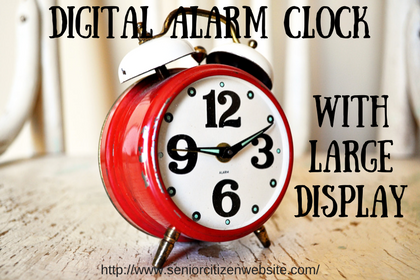 Why I started looking for a large display alarm clock? I remember the first time I realized I had trouble reading the time on my old digital alarm clock in the middle of the night. It was in my early forties when that happened. I had a regular digital clock radio alarm and it was good for many years.
Time to start looking for a large display alarm clock.
I found that looking for clocks for senior citizens that the average size of the number on the display should be larger than 1 inch for most people to be easy to read without glasses in the dark.
Let's have a look at the best rated large display alarm clocks for senior citizen we could find for you.
RCA digital alarm clock with large numbers
This is the best seller in electronic alarm clocks and we found over 4500 reviews. It received an average of 4.1 stars from all these people.
The nice thing is that if you put a 9 volt battery in it all the settings will stay in the memory in case of a power outage or if you unplug it from the wall socket. Does not come with the battery.
The features are:
1.4 inch red display
Large snooze button
Alarm on/off indicator
Two brightness settings
High resolution digital calendar and alarm clock with large numbers
The best thing about this alarm clock for elderly is that the days and month is spelled out full and not abbreviated. Less confusing in my opinion. It also shows 5 settings of the time of the day. Morning, Afternoon, Evening, Night and Predawn. The predawn is in my opinion a little much, but it is still a nice feature.
Features are:
3 alarm functions
2 colors. White or Yellow
3 auto dim options that can be turned of
Battery back up
This nice clock with the many features makes it to be set for personal options. The 3 alarms can be use for daily meals or time to take medication.
It received a 4.8 star rating from over 600 buyers. Little higher in price but recommended as a good buy and a great gift for a senior citizen.
Easy to set large digital alarm clock with big red display
I had a little trouble finding the size of the numbers on this clock but they are 2 inch tall and 1 inch wide.
It does not offer a 24 hour format, but just 12 hours and a AM and PM showing. Not a big problem in my opinion. The single alarm is easy to set
4.5 stars from over 900 buyers is a pretty good result. This made it to the best seller in desk and shelf clocks. There is no radio in this clock just the alarm function.
Like most others it runs on 120 volts and comes with a battery to keep the settings in case of a power-outage.
Features:
1.4 Inch size numbers
Large snooze button
2 brightness settings
Battery back up
Like most alarm clocks the battery is not included.
This LED digital alarm clock comes in a black and a white version and is advertises as a bed side alarm clock.
Extra large digital clock with 5 alarm options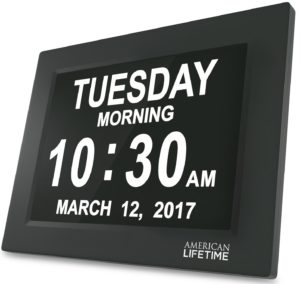 This clock can be compared to the one we looked at above but it offers even more functions.
It displays the day and time in full and not shortened like some others do and I think this is a great feature. The size of the letter and number is 1.5 inches.
With its 5 alarm settings that this large digital clock has it is great for reminding to take medication or for meals. The battery back up will remember all setting in case of a power outage, but most of the newer digital alarm clocks do that.
This alarm clock comes in 10 different colors and they are: Black, Gold, White, Brushed black, Cream marble, Grey marble, Mahogany, Marble, Two pack mahogany and Wood. There must be one that will fit your bed room decor.
The display will show the time of the day also in: Predawn, Morning, Afternoon, Evening, and Night. It can also display a custom message like "take your morning medicine". This makes it in my opinion the best large display alarm clock for a senior citizen.
Features:
10 colors
5 alarm functions
8 language settings
Custom message for alarm
 
Marathon Digital alarm clock with day-date-temperature
Over 1200 people took the time to write about their opinion after buying this nice big numbered alarm clock and gave it an average of 4 stars.
Available in Black, Blue, Pink and white it can fit any bedroom decorum. The day and date are abbreviated and for some people this might be not a good choice.
The digits are 1.25 inches high and this makes them good visible in about any situation.
The option for 7 languages makes it also available for the many Spanish speaking people in the USA.
Features:
1.25 inch digits
7 languages
4 colors
time, temperature and calendar
The price of this alarm clock is very affordable and that explains probably the high number of buyers that reviewed this clock.
Normally we never review more than 5 products because we try to find the top 5 best rated and sold with an average rating over 4 stars. This time we make an exception and add one more since we found that some people look for an alarm clock with 3 inch LED numbers.
Jumbo Display Digital Alarm Clock With 3-inch LED
We found a few of these jumbo alarm clocks but this one got the highest ratings from over 80 people.
This jumbo display led alarm clock measures 8.7 x 4.1 x 2.2 inches and the displayed numbers are 3 inch high and 1.6 inch wide. We read that the visibility is great without being to bright and light up the whole room.
The volume of the alarm can get set to high or low depending on your preferences.
The 110 volt AC adapter comes with a USB cable so you can also use it on a computer or laptop. Batteries keep the time in the memory in case of a power-outage.
A feature is that it comes with a extra USB ports so you can charge your phone or any other device with it also.
About digital alarm clocks with large display
If you need an alarm clock it is not easy to find the old-fashioned ones anymore and to be honest the digital ones are much easier to use anyways in my opinion.
if you are in search for a new alarm clock or need one with larger numbers you can see our top 5 digital alarm clocks with large numbers on this page. There are however a few more things to keep in mind that you should look for in the reviews.
One of the things you have to ask yourself is if you need more than one alarm time. It is very easy to have more than one if you need to take medication at a certain time every day.
The next thing is to ask yourself if you need a large digital clock for the elderly. If you have it next to you at the night stand you might be able to read it, but if your eyes are bad as mine a larger display is a very comfortable thing to have. No need to put your glasses on for looking at the clock.
How the control buttons are placed is also worth looking into. I like a snooze button that is large and at the top of the alarm. In the other settings, I do not care too much about where they are. Most of the time you set your alarms one time and you are done.
Battery backup is without a doubt an option it should have. Nothing is more annoying than redoing all the settings after a power outage. Just be aware that the batteries do not last forever and need to be replaced. I replace mine every year. Most of them have a 9-volt battery that will last longer than double-A batteries.
The brightness of a jumbo display alarm clock can be something you have to look at and maybe get used to. This is very personal. After all a larger display of a day and date clock for elderly will give more light. Some large number display alarm clocks have a dim function but this a very personal thing. I sleep very deep and the light of the large display alarm clock don't bother me. Many clocks for senior citizen have these settings.
If you have any opinion about the large display alarm clock let us know in the comment section below.
Eddie Vandam
Eddie Vandam realized when he was getting older that it was hard to find information about products for seniors and decided to share his experiences here on the website to help others. Read more.