We are reader supported, and earn a small fee when you click on a link.

Taking medicine on a daily basis can be a little troublesome. It is very important to take your medicine on the day and time your physician told you.
A very easy and affordable way to do that is using a Pill Organizer. You can find one for your specific situation. The variety of available medicine organizers is large and range from 2,3 or 4 times daily to monthly pill boxes.
We have put them in the most looked order for you to find the one you need.
Weekly Or Monthly Pill Organizers
This is the first thing you have to consider when you start shopping for a pill organizer. This all depends on your specific medicine use like once or twice a day like Am and Pm. There are even 14-day organizers.
If you like to find all the pillboxes that are available you can click on the links.
I also had a look at pill cutters for if you need to half or quarter them.
Pill Organizers For 7 Days

This is probably the most used type. Many people like to organize their medicine for 7 days.
Ezy Dose 7 Day Pill Planner
This Ezy Dose is one of the most basic pill organizers, BPA free and very cheap.
Over 1900 people gave it an average of 4 out of 5 stars and if you think about the fact that the perfect pill box does not exist this is a pretty good rating.
The size of the compartments is large enough to hold 6 aspirin size tablets and the clear lid makes it easy to see if all medication is taken for that particular day.
The lid stays closed pretty good and is still easy to open according to some of the users. This all depends on how much strength you have of course. This pill box is also used by many people for traveling.
Our opinion: If you are looking for a standard easy to use pill box for seven days I think this is a good choice.
With the low price of under 5 dollars and the availability of the three sizes Small. 2XL and 3XL there is always one that will fit your needs.
Borin-Halbich 7 day medication organizer

This organize is available in 9 versions. From shallow to one with a pill cutter included.
From 3 compartments to 4 compartments there is always one that fits your needs. Very affordable and with an average of 3.8 stars from almost 2100 buyers it is a pretty good choice.
The compartment size is pretty large and I read someone mentioned it would hold about 24 aspirin size pills.
Each Day compartment got separate compartments. The one for the morning is the larger one and the ones for noon and bedtime are a little smaller.
BPA free and made in the USA.
Our opinion: Have not found anyone complaining about hard to open but maybe with severe arthritis, all these types of medicine boxes are harder to open.
Apex 7 day trays with Am and Pm
One of the boxes with the highest customer rating is this Apex pill dispenser for a 7 day supply. 4.3 stars out of 5 to give from over 800 buyers is a good score.
Available in a single pack, Pack with a pill cutter and a 2-pack for a very affordable price.
Compared to some other pillboxes this one seems to close very well and does not open by accident when carried around in a purse I read. Opening is like always, and I mentioned before, a very personal thing and will vary from person to person. Overall I read that the compartments are fairly easy to open.
The compartments have one lid and no separate lids for morning and night I see and this might be a problem for some.
Our opinion: 80% gave this a four and five star rating. The dimensions are 2 x 4 x 2 inches and this will hold a nice supply of medicine.
14 Day Pill Organizers

Sometimes it is easier to organize your medicine for two weeks specially if you have to take medicine for a specific time only. Or do not like to go through the process of separating your pills every week.
Ezy Dose 14 day pill box
This is the second Ezy doze product that shows up in our review and again with some nice reviews.
Available in the two-week version but also in the one week version like we showed above.
The locking mechanism gives some mixed opinions and for the 2-week version, there is a little lip that you have to push up.
Some mentioned it was very easy to use and others mentioned that it was a little hard.
The lids are clear and this makes it easy to see at the end of the day if you took all your medication for that day.
Our opinion: With the Ezy products you can not go wrong we think. Most people mentioned that good quality and easy to use.
Monthly pill boxes

Although months have 30 or 31 days with the exception of February of course, most what are called monthly pill organizers are for 4 weeks or 28 days.
We have found some 30 and 31 day pill organizers and you can find them down on the page. Here we have a look a the ones that use the 4 week system.
1 Compartment per day and 4 Weeks planner
This monthly pill box is easy to use for a whole month.
The labels read the day and added week 1 or 2 to prevent taking the wrong medication.
The size is pretty big and each compartment will hold about 25 aspirin-sized tablets to give you an idea about the size.
What I like it that this pill box also has a Braille marking and this option you do not find on many pillboxes.
4.1 stars out of 5 to give is a good score since it is impossible to produce a one size fits all medicine planner.
Our opinion: One of the highest rated 30 and 31-day pill organizers and a recommended product.
PillzRx monthly pill organizer arthritis friendly
This is a large pill organizer with easy to open push levers.
Can be set up for 4 weeks and 31 days if you like to adjust it to your specific wishes.
BPA free and for what it is worth FDA approved.
large compartments to fill all your medication for a whole month.
Compartment size is 1.4 x 2.2 x 1 inches
Total size is 9 x 8.7 x 1 inches
4.2 stars from over 45 buyers is a good score.
30 day pill Organizer

I was only able to find one pill dispenser that has slots for 30 days. It also only had one review so I have no idea how good this one is.
I will keep trying to find more pill boxes for 30 days and add them here.
Pill Thing 30 day pill containers with medication log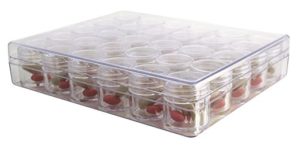 I have no idea how good this 30 day pill organizer is. One buyer mentions that it works great for him or her.
The pills for each day are stored in a separate container with a screw on lid.
They are about 1 inch in diameter and 1.12 inches high.
Capacity is about 10 ibuprofen pills
Overall measurements are: 6.5 x 5.3 x 1.4 inches and this is pretty big.
Comes with a medication log to keep track.
our opinion: Hard to give an opinion based on one reviewer. Think it is good to have the lids on the individual containers. It is recommended for travel but with the large size, it might be a little awkward.
Do your own research and you can have a better look at it and see the price here.
31 Day Pill Organizer

31 day pill organizers are easier to find and we will add a number of them here later.
We have however found one that came with some great reviews and about all the options any pill organizer needs and can be set up in a way you like it.
Pill Organizer With 31 Days, Reminder and Green-Red Coding System

I stumbled upon this 31 day organizer that has a lot of features and can be adjusted to a lot of medicine use times and systems.
This system can set up for taking medication at 4 times a day and will sound an alarm at that time.
The alarm needs to be turned off by the user.
The timer can be set for up to 4 different times. The clock only has to be set ones. Uses 2AA batteries but there is an adapter available also.
In the front is room to place the box with the medication for that day with Morning, Noon, Evening and Night.
One side of the box is red and the other side is green. By putting the box back with the red side up you can see that that day all the medication is taken.
More About Pill Organizers

After reading a lot about pill containers and how most people use them I can only come to one conclusion.
There is no perfect pill organizer that fits all of us.
That is why we could not find one with a real high rating in my opinion.
You have to decide what type will fit your needs and type of medicine use.
A simple one time a day medication does not need a pill box with AM and PM options but it is sufficient to use one with one compartment.
For travel, you have to decide how big it has to be and if you maybe need a twice a day organizer or not.
Multiple medication spread out over the day and maybe even night will automatically makes it necessary to use a multiple compartment option.
There are also alarm clocks with multiple alarm to help you do that at the right time.
If you do not mind filling your organizer ones a week then you can use a 77-day container. If you prefer to fill it ones every two weeks or even ones a month there are other options available.
Do your research and use our Pill organizes and dispenser review we did here as an option to find the one that fits your needs.
Eddie Vandam
Eddie Vandam realized when he was getting older that it was hard to find information about products for seniors and decided to share his experiences here on the website to help others. Read more.