We are reader supported, and earn a small fee when you click on a link.

Sometimes it is hard to get in and out of the tub and a little help would be welcome.
There is a variety of bath handles available but what is the best one for your situation. There are two basic ways to help you get in and out of the bath or help you keep your balance in the shower.
Attached to the wall
Attached to the edge
CLICK HERE!
✔️To See Our 3 Recommended Bath And Shower Handles!
Bathroom grab bars attached to the wall
The first thing we noticed when we started on our bath handles review is that the ones with the suction cups look like the easiest ones to use and they probably are. But after reading a lot of the reviews and looking at the customer ratings we noticed that they are not as good as they seem to be. This type of grab bar can also easily be used in combination with toilet height extenders for more grip and easier to get up.
The average rating does most of the time is not even above 4 stars and that is our minimum requirement to even be considered for mentioning here on the senior citizen website.
in about 10 – 20% of the reviews I read that they do not stick and come off the wall after a few minutes or a little longer.
Our recommendation is a bathroom handle that has to be screwed in a stud in the wall or in the tiles of your wall!!
Moen stainless steel bath grab bar stainless steel
The brand Moen is well know and has a very good reputation. This Grab bar is made of stainless steel and needs to be installed on the wall with screws and anchors, depending on if you have tiles or can find the studs in the wall.
Available in two sizes.
Moen grab bar features
Weight 2.3 pounds
Stainless steel
Supports up to 500 lbs
Corrosion resistant
Customer reviews

As you can see this bath grab bar has a great star rating of 4.7 stars from over 480 people who took the time to write a review.
Let's see what the lower ratings say about this product. I read just a few things about not having the screws in the bag and not being able to install in in a stall type bath. For the rest there were 94% of the who purchased this bath grab bar that gave it a 4 and 5-star rating.
Many people mentioned that if you screw them in the studs they will hold up very good and work great. Seems that installing with a few dry wall screws is not the best way to install it.

Bathtub Bar For side Of Tub
This bar is locked to the side of the bath and this is in my opinion a great solution. The thing most buyers liked is that there is no complicated installing required.
The sides are padded with rubber so the side of the tub does not get damaged. One question was if the shower curtain was not blocking the bar but the curtain fits on the inside and leaves the bar on the outside for when you are ready to use it.
One warning is that the maximum width can be 6 inches do make sure to measure that first before ordering. In my opinion it will fit most tubs however.
Customer reviews for this bathtub safety side bar

As you can see this bathroom grab bar has an average of 4.7 stars and over 1150 people rated it with 4 and 5 stars.
This should be enough to tell you that this is a good product but we always dig a little deeper.
One thing we found is that it holds the best on a bathtub that has straight walls and not too much curved. There were a few people that mentioned it did not stay to secure in these types of tubs. But others mentioned no problems with it at all.
For the rest we could not find a lot of negative news for this product that most people would recommend as a good buy.

Adjustable Height Bathtub Grab Bar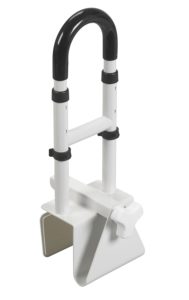 This seems to be a very good product and I read many of the reviews people left.
Made from powder-coated steel and a good locking system we read a lot of good things about this grab bar.
The features are:
Adjustable height from 14 – 17 inch
can be installed on 3 – 7 inch tub edges
a height of 14 to 17 inches and that is the adjustable height that many people liked. it can be installed on an edge between 3 and 7 inches wide and this is a nice range and makes it suitable for most bathtubs.
There are no tools required to install it although I read that it takes some force to install secure sometimes. The rubber padding seems to give a lot of friction to keep this bar in place and not move or become loose.
Customer reviews of this adjustable height bathtub grab bar

92% 4 and 5 star rating is pretty good. the few lower ratings mentioned it did not fit on their tub a good reason to try it as fast as you receive it.
Many people wrote that this is a great help getting in and out of the tub and the adjustable height makes it even easier.
It does not work on bathtubs with sliding door rail on it and that is understandable. It will work with shower curtains since you can have the curtains on the inside of the tub and when you open the curtains you can use the grab bar to get in and out.
What I read that it is supposed not to be used on fiberglass tubs but are there any other types of tubs? Most people who read that also mentioned that they just installed it and had no problem at all.
More About Bathtub grab bars
A grab bar on your shower wall or attached to the edge of the tub is a great help for getting in and out the tub or keeping you balance while taking a shower. It is not a one size fits all solution and you have to choose the one that fits our needs.
Like I mentioned before is that the wall grab bars with the suction cups do not get a lot of good reviews. Many people wrote that they come off. There are however also people who like them and have not problems with them.
Grab bars that are secured in the studs in the wall are of-course a better solution but not always an option in some of the tubs with the walls attached to it.
The grab bars on the edge of the tub seem to work pretty well and I noticed that like in many houses when the toilet is next to the tub it can also be a great help to get up from the toilet.
Overall it is very important to try to find the one that fits your needs the best and if you are not technical let someone else install it. The ones on the edge seem to require some strength to tighten and again do ask someone to help you if you are not so strong. Better safe than sorry.
CLICK HERE!
✔️To See Our 3 Recommended Bath And Shower Handles!
if you have any experience with these type of bath tub grab bars or any other bathroom safety products for seniors, feel free to leave it in the comment and help other readers. We can all use more shower equipment for elderly tips.
Eddie Vandam
Eddie Vandam realized when he was getting older that it was hard to find information about products for seniors and decided to share his experiences here on the website to help others. Read more.