We are reader supported, and earn a small fee when you click on a link.
Japanese Beetle Trap
The best way to kill and get rid of Japanese Beetles from your garden is using a Japanese beetle trap.
Best Japanese Beetle Trap
Last year I had a lot of problems with Japanese beetles in my garden. I tried to catch him with a bucket of water, but there were just too many.
Reason to spend some time this winter trying to find out how to deter or get rid of these beetles that destroyed many of my regular and vegetable plants.
I found that detering them is almost impossible so I had to find a way to kill them without using chemicals in my vegetable garden.
That meant finding a good Japanese beetle trap!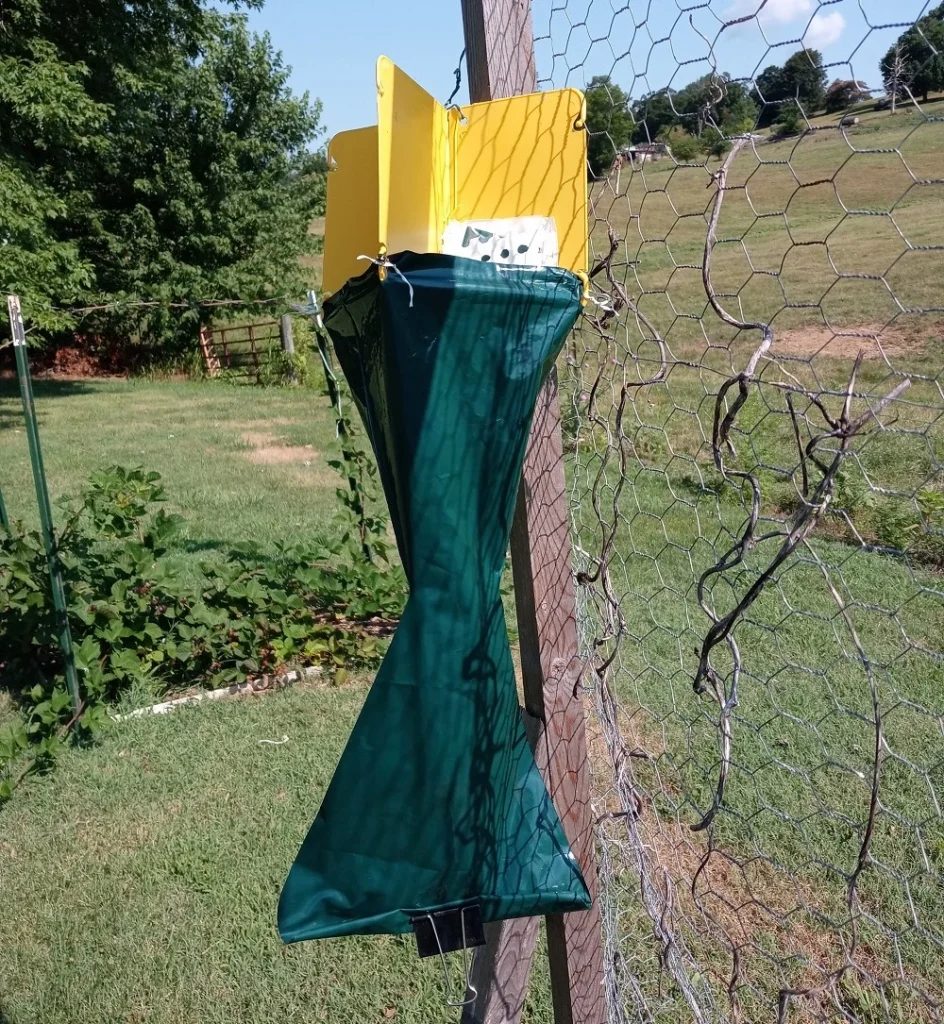 Quick Facts
The Japanese beetle traps I tested did all very well. However, this one stood out in performance. The pheromone seems to attract them very well and the way the trap was constructed caught and trapped them very well.
Works instantly
Very effective
Works all season
Assembling is a little hard
Emptying is not easy (I have a solution)
Japanese Beetle Trap – My Opinion
As I mentioned above Japanese beetles can cause a lot of damage in your garden.
The trap I found and review here is one of the best-performing Japanese beetle traps I tested.
Assembly was a little hard since the manual was not that well written, but after looking at the parts and reading again I figured it out,
The principal of this trap is the pheromone it comes with. That attracts the beetles from all over the garden. After that, the beetles get trapped in the large back you see in the picture.
In 1 day time, the bag was filled for about 50% and need to be emptied. Here is where the negative part starts, but also I found a simple solution.
To empty the bag you actually have to keep it upside down. This made it possible for some of the beetles that were not dead yet to escape. That defeats the purpose of course.
Here is my solution! I cut the bottom of the bag open with a pair of scissors and emptied the bag into a bucket filled with water and some dish soap. This was to kill the few that were still alive.
Then I folded the bottom of the bag twice and used a clothespin to secure the bag. You can use anything else you have for that of course.
Now all I have to do to empty the trap is take off the clothespin and dump the content in the bucket I mentioned before.
TIP 1: Do not fold the bottom over the small holes at the bottom of the bag. If you do this the rain will fill up the bag.
TIP 2: After a while, it begins to smell. Especially in the hot weather, we had recently. After emptying the bag rinse some water through it to clean it. I found it had no effect on how it performed.
I have used this Japanese beetle trap now for a while and it still works very well on the first load of pheromone. I had ordered a spare pheromone block but I guess I can keep it for next year.
The package comes with 2 bags. So, that means that you have a spare one or you can order a second pheromone block and use it at 2 places in your garden.
Check The Current Price On Amazon Here! I bought it for just under $10.
Share your experience with us in the comments below.
Eddie Vandam
Eddie Vandam realized when he was getting older that it was hard to find information about products for seniors and decided to share his experiences here on the website to help others. Read more.