We are reader supported, and earn a small fee when you click on a link.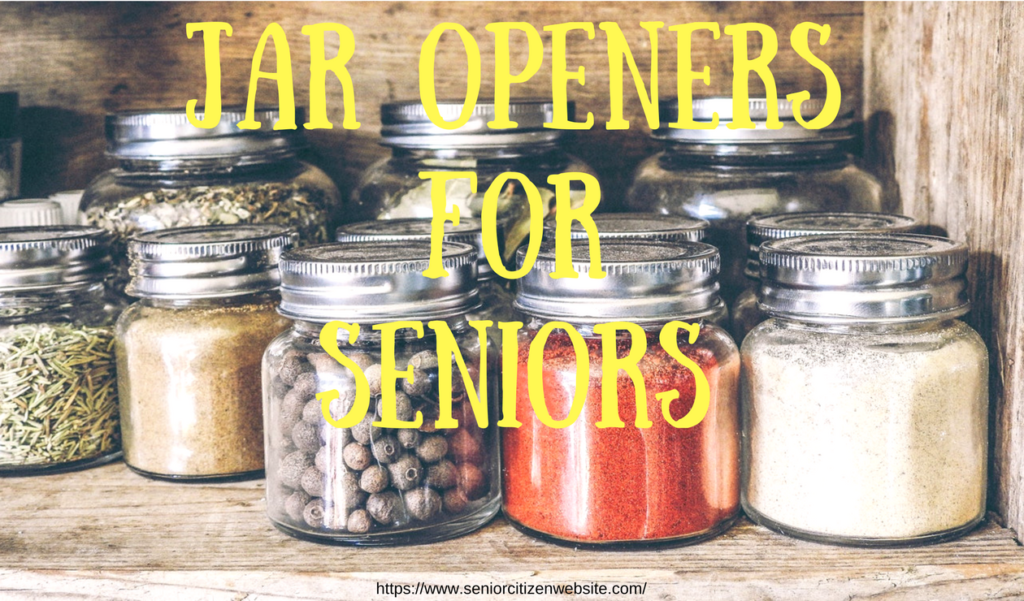 There are many names for jar openers for seniors and most of them are also very good for people with arthritis.
I remember even when I was a lot younger and stronger that there were times I could have used an easy jar opener.
Although most of the time do not have to use a jar opener tool, and still are able to do it by hand. I know that my wife likes her rubber jar gripper and uses it all the time.
In this article, I try to find the best jar opener for seniors.
Updated: November, 2023
Read My Top 5 Jar Openers For Seniors
Like I always do I tried to find the 5 best products. These jar lid opener reviews and these jar openers are no exception.
With each of these you can see how to open a jar that won't open.
What I looked at is always the best-rated products and I also try to find openers that operate differently since there is no one solution that fits all of us.
---
EZ Off Jar Opener
This is the first jar opener I did. What I found in the EZ off jar opener review is that many people like it and it is also the one with the highest ratings and most positive comments.
Doing this EZ off jar opener review I found 4.8 stars out of 5 to give from almost 2000 buyers, and this is a rating I do not see too many times.
This under-cabinet jar opener has a range from very small bottles to 6-inch wide jars. I read someone opened a nail polish bottle with it.
This is also the only one that people mentioned they could use with one hand.
This so-called under-cabinet jar lid opener is attached with adhesive tape and the 3 screws that come with it. This will keep it in place for a long time.
This is best installed under your upper kitchen cabinet for easy use, but you can put it anywhere you like it. It needs about 7 inches for installation.
The right side of the EZ off jar opener has the teeth and this is more than sufficient I see after reading all questions and reviews.
---
OXO Good Grips Jar Opener
In my jar openers for seniors I had a good look at his OXO jar opener I realized that this is basically the portable version of the EZ Off jar opener I reviewed above.
The principle is the same, the only big difference is that you still need two hands compared to the EZ off.
But the advantage is that there is no installation required and you can take it with you camping or in the RV.
The rubber base can be placed under the jar to help you hold it while opening the lid.
This one opens jars up to 4 inches with no problem. One person with arthritis asked if this jar opener was easy to use for someone with arthritis and the answers were very positive and all of them said yes. Remember however that I got no idea how severe his or her arthritis was.
Negative reviews were talking about the low quality and that you still need some strength to open a jar with it.
Still got almost 90% 3,4 and 5-star ratings and this is good enough to be placed in our top 5 jar openers for senior citizens.
---
Jar And Can Openers For All Sizes Lids And Caps
This large jar lid opener I reviewed in our jar openers for seniors. claims that it can open any size can and in the reviews I read it shows that it really can do that up to 4 inches and that is a pretty big jar.
The second one is a bottle opener with some extras. Besides a can opener, it has a built-in blade to open those packages that always give you a hard time. This feature is also great to peel back the little pull tabs they use on some cans.
One thing I like to mention separately is that it works great for medicine bottle that needs to be pressed down before you can twist them.
Let's have a look at the lower ratings. although only 4% gave it a low rating I read that some of them just did not like the small bottle opener that comes with it.
The large jar opener was mentioned as very good except for people with very small hands. They will have a hard time holding both arms with one hand.
I have to be honest and realize that a product will never be perfect for everyone.
With an average of 4.5 stars out of 5 and 93% giving it a 3,4 or 5 star I think this is a jar opener I can recommend as a good buy.
---
Kichwit Arthritis Jar Opener

The Kichwit jar opener is made of rust-resistant metal although they mention the term stainless steel in the description.
This jar opener will open jars up to 3.7 inches and in most cases that is more than sufficient.
They also offer a larger model but that one works with a different type of system.
There are three steps to use this jar opener.
Step one is to adjust the clamp on the jar lid till it touches the lid
Step two is to turn it a little so that the steel teeth have a grip on the lid
Step three is to hold the jar and twist the lid with your other hand.
One thing I noticed is that the company that sells these openers, Kichwit, is very active in helping people with problems using this product.
They claim it to be a jar opener for people with arthritis. In some cases, they offered a full refund for buyers who were not 100% happy with their product.
Looking at more jar openers for seniors reviews I have to say that there a lot of people who like this product and gave it nice ratings.
An average of 4.3 out of 5 stars from over 160 people who really bought and used this arthritis jar opener is a good score and within my recommended ratings.
Swing A Way Comfort Grip Jar Opener
TIP! You can click on the picture to see the price
One of the most mentioned pros of this jar opener is the long handle and that you do not need a lot of strength to open a jar with it.
Most of the people who answered this question mentioned they have arthritis and had no problem using this Swing-A-Way jar opener.
This product can open jars between 1/2 inch up to 4.5 inches and like I mentioned before this is in most cases more than enough.
It can not only be used as a jar opener but many people also gave it a good rating for being able to open the plastic twist caps on things like soda bottles. This could make it a good water bottle opener for the elderly.
The seller recommends not placing it in the dishwasher but hand-washed it and drying it off right away after that. The reason is in my opinion that it is spring-loaded and the dishwasher will probably make that rust really fast.
This jar opener is also not a one size fit all product and there are people who are not able to use it because you still need two hands and have a little grip in your hands like with any other opener.
With almost 90% of the buyers giving it a good rating I think this Swing-A-Way jar opener deserves its place in our top 5
---
Jar Openers For Seniors – My Opinion
It is hard to recommend one jar opener over the other. It all depends on your personal situation.
The perfect or best jar openers for the elderly do not exist. I could recommend the EZ-off because in my situation that would work great.
I can reach very easily under the kitchen cabinets. For you, this might be not the right choice, however.
See how much you can use your hands and how much strength you have to open a jar and then see if any of the jar openers for the elderly will work for your situation.

Most of the jar openers for seniors on this page are around or under 10 dollar and will make it easier for you to open jars or take the screw cap of a bottle.
Some people look specifically for a soda bottle opener that is arthritis-friendly but a combination with a regular or large jar lid opener might also work for you.
Related Read: https://seniorcitizenwebsite.com/tricks-to-open-a-jar/
I hope I wrote one of the best jar opener reviews and that it will help you. In another article, I will try to help you find the best can opener for seniors.
Related to this article is the one I wrote about key turner aids here. They can also make your life easier.
Feel free to leave a comment or tip for other readers of this post.
Eddie Vandam

Eddie Vandam, the voice behind the Senior Citizen Website, is a retired internet marketer and proud senior. With a passion for helping fellow seniors navigate the complexities of aging, Eddie shares his insights on health, independence, products, and enriching hobbies. He's committed to making senior years both fulfilling and enjoyable. Read more about Eddie Vandam.