We are reader supported, and earn a small fee when you click on a link.
Editors Choice
First Follow Up
Second Follow Up
---
Arm Savers Gardening Sleeves
The reason that this is the first one I recommend is that it is a simple and affordable product that does the job well.
Quick Facts For Arm Savers Gardening Sleeves
Made of what they call ballistic-type nylon and I have no idea what that means but they seem to work very well.
Some users have doubts about the absorption of urushiol oil from poison ivy.
Price under $30
Great ratings
Not too best for large arms
---
Stay Cool and Cut Resistant 18 Inch Sleeve
With a price of around $15, this is a good buy in my opinion.
Made in Canada and cut-resistant. The option to choose from 5 sizes makes it easy to find the eon you need
Quick Facts for Cut Resistant 18 Inch Sleeve
With a length of 18 inches, this protection sleeve will cover also most of your upper arm for extra protection.
5 sizes available
extra long
Elastic band not working
Not for really tall people
---
Protection Sleeve 40 cm Burn Resistant for Garden and Kitchen
This one is extremely cut-resistant and might be the best option for roses and other plants with thorns.
Even when using a knife to cut limbs you don't have to worry about hurting yourself.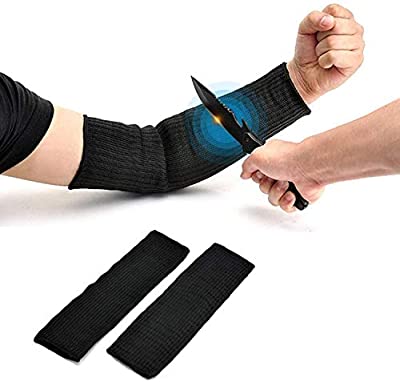 Quick Facts for 40 cm Burn Resistant
Altough it mentioned burn resistant I read that that does not work when you are welding. But I am talking here about arm protection sleeves for gardening and that is what this one is good for.
Cut resistant
Heavy and thick
Not really heat resistant
Arm Protection Sleeves – My opinion
When I started looking for an arm protection sleeve for gardening after having my arm look like I was stabbed with a knife doing getting some vegetables out of my garden.
I found several that were great for us seniors that you can also use for other purposes. Some of them are even cut resistant even from a knife cut. I also found some that were just made to be used outdoors but decided to have a look at both types.
It was obvious that I had to do something while working in my small vegetable garden. I love working and growing part of our own food but also needed to protect my arms from being scratched. You know that some vegetables like Okra come with some sharp parts.
The ones I found here are, in my opinion, the ones that most of us will fit and help to keep arm arms covered.
Eddie Vandam
Eddie Vandam realized when he was getting older that it was hard to find information about products for seniors and decided to share his experiences here on the website to help others. Read more.