We are reader supported, and earn a small fee when you click on a link.
Toilet Safety Rails reviews
For the ones who are having a hard time getting off the toilet, a safety rail can be a great way to help and keep your balance.
Editors Choice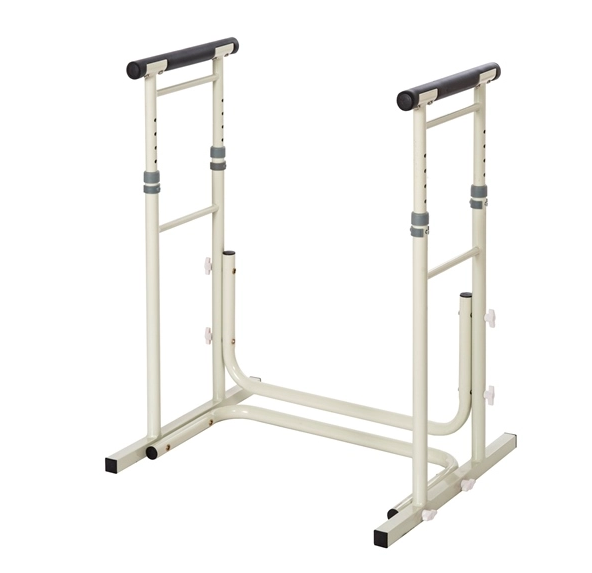 First Follow Up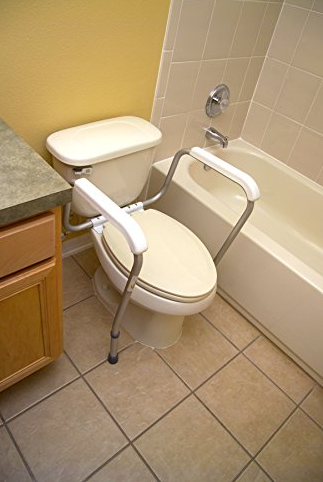 Second Follow Up
---
Free Standing Toilet Safety Rail
This is my personal choice for the situation in our house. However, your situation might be different than ours.
The easy-to-adjust height in combination with a very stable frame makes it my first recommendation.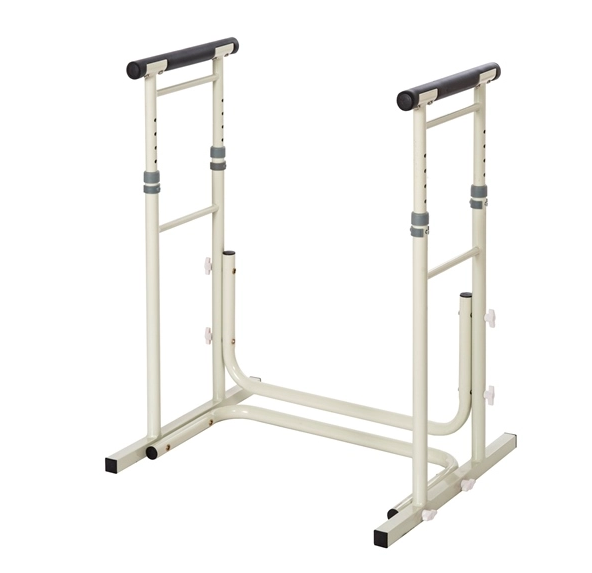 Quick Facts For Free-Standing Toilet Rail
Text for the quick facts for the first product and so on.
Fully adjustable in height
Very well built
Stable
---
Semi Fixed Toilet Safety Rail
If you think a more permanent fixed toilet safety rail is a better option, I suggest looking at this one.
Maybe you must remove the toilet seat first to install it and later place it back.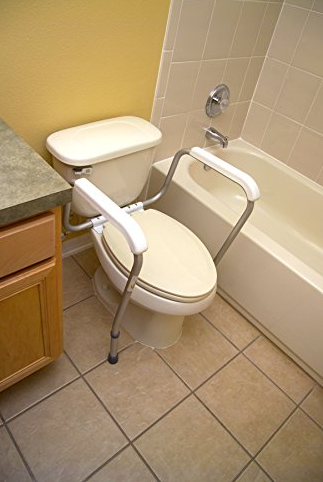 Quick Facts Semi-Fixed Toilet Safety Rail
If you feel safer when the rail is attache to the toilet itself and don't mind a little more steps to install this is a niche product to take into consideration.
Attached to the toilet for more stability
---
Wall Mounted Toilet Safty Rail
This toilet safety rail is mounted to the wall and can be moved out of the way.
This makes it easy to use only if needed and the rest of the time it can be collapsed.
Quick Facts For Wall-Mounted Toilet Safety Rail
This one had to be installed in a stud in the wall and requires some drilling and maybe anchors to install.
Can Be collapsed
Affordable
More complicated to install
Might need one on each side of the toilet.
Toilet Safety Rails- My opinion
There are several types of toilet safety rails. I personally prefer the one that is stand-alone for the reason that it can be removed when not in use.
The permanently fixed ones on the wall or on the toilet are great if there are not multiple persons using this toilet.
That is the reason I gave 3 options to choose from. The model that fits your needs the best might not be one of them and then I suggest you look at Amazon where they have much more available.
I see the question of how high should a toilet rails be and I believe that it all depends on the height and the strength of the person using it.
The second question I see is how do you install a toilet safety rail? Installing a toilet safety rail is depending on the type. Some can be just placed over the toilet and for others, you might first have to remove the toilet seat to install it.
Overall, I think installing a toilet safety rail in most bathrooms is not hard.
These safety rails for toilets are also for sale in many home improvement stores such as Home Depot. Lowes and even Walmart. However, they might not have them in stock and have to order the for you.
You can also find them in many health products stores but it is my opinion that the prices are a lot higher there in most cases.
So, it is hard to decide on what is the best toilet safety rail since it depends on several factors as you could read here. Remember that they can be part of a fall protection plan to avoid injuries
I had a good friend that used one for a while after his hip replacement surgery and kept using it for convenience.
Eddie
Eddie Vandam, the voice behind the Senior Citizen Website, is a retired internet marketer and proud senior. With a passion for helping fellow seniors navigate the complexities of aging, Eddie shares his insights on health, independence, products, and enriching hobbies. He's committed to making senior years both fulfilling and enjoyable. Read more about Eddie Vandam.