We are reader supported, and earn a small fee when you click on a link.
Pill cutters are also called pill splitters and there is so much choice that it is not easy to find the best one.
Maybe I call this a pill splitter review, but I believe each of us might have a different need.
There are general pill cutters, but also special ones for small pills or even for cutting multiple pills all at once.
You can buy pill splitters about anywhere but I had a look at the pill splitters on Amazon.
What is a pill cutter and how to use it
I hope this video made it a little clearer what a pill cutter is and how to use a pill cutter.
General pill cutters
There are many pill splitters available. I tried to find the ones with the highest customer ratings and had a good look if they were easy to use.
You can keep them together with your pill organizers and dispensers to make it easier.
I found this one from the Ezy dose and it is pill cutter for easy use and can be used for most pills.
With an average, of 4,5 stars from almost 8500 buyers, I think you can't go wrong with this one. Priced around $5.00
Click here to see it on Amazon.
---
This Equadoze pill cutter comes from a reputable company. I think this one is also easy for taking with you while traveling. There are parts for 2 sizes of pills. It just might be a little hard to use for people with limited hand mobility.
I found again 4.5 starts this time from a little over 2900 buyers.
Click here to see it on Amazon.
---
This pill cutter is from the Zikee company and works just like a regular pair of scissors.
Again maybe a little hard to use for some of us, but I have not read any negative reviews about that.
I found a 4.6 star rating from 290 buyers.
Click here to see it on Amazon.
---
Pill cutters for tiny pills.
We all have those small tiny pills that are even harder to cut than regular size pills. That is why I tried to find the best small pill cutters.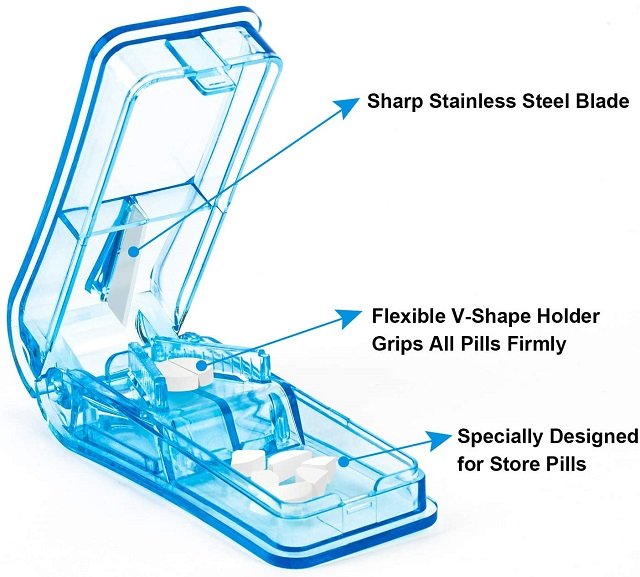 This one can also be used for regular size tablets and not just for small pills. This might make it more universal.
The storage compartment also makes it easy to take it with you while traveling or for emergencies.
4.5 stars from over1400 users is a pretty good rating I think.
Click here to see it on Amazon.
---
There was no brand name on this one but I still added it here for the simple reason that it had some good rating. The blade guard gives it some extra protection.
4.4 stars from over 1400 buyers.
Click here to see it on Amazon.
---
This pill cutter for small pills comes in 5 different colors and a compartment to store your pills in.
The 5 colors make it maybe easy to match your pill organizer and or anything else.
I found a rating of 4.4 stars from over 220 people who took the time to rate it.
Click here to see it on Amazon.
Pill Cutter For Multiple pills
Sometimes it is easier to have a pill cutter that you can use to cut more than one pill. Here are some options for multiple pill cutters.
The first one I found can handle multiple shapes of pills. From round to oblong.
It is also capable of quartering pills. I read that it is very sturdy and easy to use.
4.5 stars from over 2600 people who wrote a review.
Click here to see it on Amazon.
---
This one is multi usable in several ways. Not only can you cut multiple pills at the same time. You can also use it for multiple size pills. Even real tiny pills.
4.4 stars from over 600 buyers.
Click here to see it on Amazon.
---
Pill Cutters – My Opinion
I came to the end of what you could maybe call my search for the best pill cutter.
As you can read there is too much difference between most of them and all the pill splitters I have added here I can recommend it as a good buy.
There is more than enough choice to find the one pill-splitter that would fit your needs.
Most of them are very affordable and are in the price range under $10. The pill cutters for small pills are very easy to use. The multiple pill cutters are however a little higher priced of course.
Some regular pill splitters are also suitable for small pills. It all depends on the brand and make.
Eddie Vandam
Eddie Vandam realized when he was getting older that it was hard to find information about products for seniors and decided to share his experiences here on the website to help others. Read more.