We are reader supported, and earn a small fee when you click on a link.
Bookholder Reviews
A bookholder for the elderly and seniors can make our life a lot easier. They are available in several sizes and are sometimes even adjustable.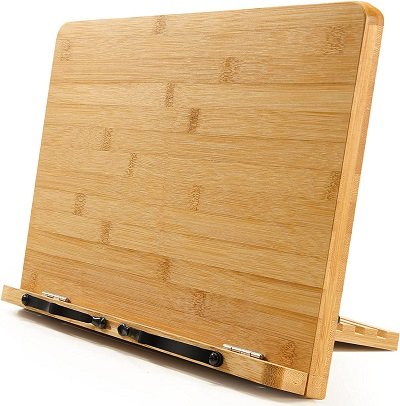 Editors Choice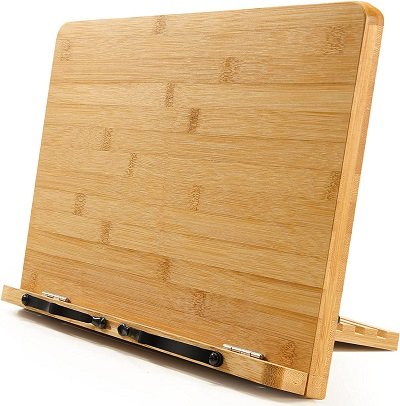 First Follow Up
Second Follow Up
---
Bamboo Foldable Wooden Bookstand
This book holder can be adjusted in 5 steps. From almost straight to a nice angle.
Bamboo is a very nice and environmentally good choice for a book stand.
The price is around $17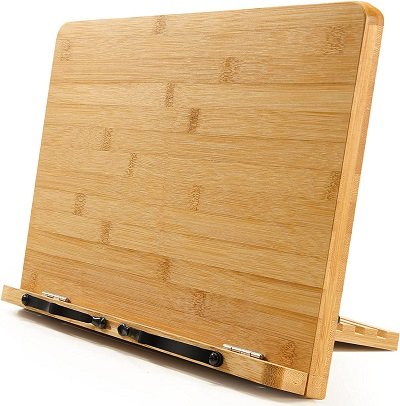 Quick Facts For Bamboo Book Stand
With a size of 13.4 inches x 9.5 inches most books will fit this bookholder. For thicker books, the clamp might not work. I also read that it is not easy to use in bed.
Good for books and laptops.
Very sturdy
---
Adjustable And Collapsible Bookstand
I like this one because of its height and adjustability.
Available in white and black and made of an aluminum alloy it is more of a modern design.
The price is around $25
Quick Facts For The Adjustable Bookholder
The size is 10″ x 15″ x 1.5′ and this is all adjustable to your needs. It can be used on a desk or even in the kitchen to hold your recipe book.
Fully adjustable.
Modern look
White and Black option.
Some complaints about sturdiness.
Not for in bed
---
Large Book Holder
If you have large or heavy books I suggest you have a look at this one.
Although there are 2 sizes the large one is 16 inches x 10.5 inches and the largest I could find.
Made of MDF wood and priced around $34
Quick Facts For The Lare Bookstand
This one can hold large and heavier books in 5 positions. it is made of MDF and which is a very sturdy pressed wood material.
Some came damaged
Can be too heavy for some
Book Holder Review – My Opinion
It is hard to decide what the best book stand is since it depends on what you are using it for. Books or even laptops can be supported and take the weight out of our hands.
However, they can be a little bulky and heavy. A recipe card holder bookstand can be smaller.
It seems to me that this product can make life a lot easier and make reading something to enjoy again.
You can also use some of them in bed or even in the kitchen to hold your recipes.
Eddie Vandam
Eddie Vandam realized when he was getting older that it was hard to find information about products for seniors and decided to share his experiences here on the website to help others. Read more.