We are reader supported, and earn a small fee when you click on a link.
Handicapped Card Holders
[no_toc]
Parking on a handicapped spot requires a card that is visible from the front window of your car. Many of the free ones are of bad quality and will not last too long.
They are, in most cases, also hard to hang and the only place for them is the rearview mirror.
This can be very annoying and the mirror is sometimes hard to reach.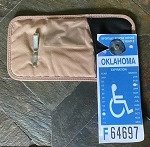 Quick Facts for Handicapped Card Holder
This handicapped permit hanger is easy to attach to your sunscreen and all you have to do is fold it out and it is visible for anyone.
When you come back all you have to do is fold it back in your sunscreen and you are ready to drive off.
Pros
Foldable
attached to sunscreen
Easy to use
Handicap Card Holder – My opinion
I had a good look at the many options and other available holders but this one is, in my opinion, the easiest to use and the best quality for what you pay for.
Eddie Vandam
Eddie Vandam realized when he was getting older that it was hard to find information about products for seniors and decided to share his experiences here on the website to help others. Read more.