We are reader supported, and earn a small fee when you click on a link.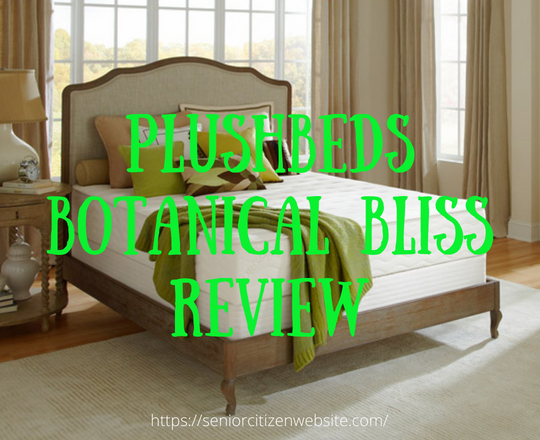 What I found in this Plushbeds Botanical Bliss mattress review is that this mattress is made of 100% latex. From the top layer to the bottom layer there are no chemical components.
With all the different options to choose from that range from 9 to 13 inches depending on the firmness you prefer, there is always a Botanical Bliss that fits your needs.
Layers
As I mentioned before the only material you will find in the Botanic Bliss is all-natural and organic latex.
Layer 1 organic cotton cover: The soft knitted organic cotton cover offers unrestricted airflow & moisture absorption to keep you sleeping cool & dry on your latex mattress. And because it's certified organic, you know it was grown sustainably, without any dangerous pesticides or herbicides.
Layer 2 Organic New Zealand Wool: Up to 10 lbs. of certified organic wool in every latex mattress not only provides exceptional soothing support, but it breathes naturally and helps your body maintain a well-regulated cool and comfortable temperature throughout the night.
All other layers are organic latex: Each layer of organic Dunlop latex from Arpico is uniquely calibrated to a different firmness, so you can dial in with precision to the perfect level of softness & support guaranteed to last the next 25 years on your latex mattress.
Botanical Bliss Options
If you opt for a Botanical bliss you can order it the way you like it to feel and they also come in many sizes. Here you can see an overview of all sizes and options.Show 102550100 entriesSearch:
| Size | Measurements | Firmness | Height |
| --- | --- | --- | --- |
| Twin | 38″ X 75″ | Medium and Medium firm | 9,10 and 12 inches |
| Twin XL | 38″ X 80″ | Medium and Medium firm | 9,10 and 12 inches |
| Full | 54″ X 75″ | Medium and Medium firm | 9,10 and 12 inches |
| Queen | 60″ X 80″ | Medium and Medium firm | 9,10 and 12 inches |
| Split Queen | 38″ X 80″ (x2) | Medium and Medium firm | 9,10 and 12 inches |
| King | 76″ X 80″ | Medium and Medium firm | 9,10 and 12 inches |
| Split King | 38″ X 80″ (x2) | Medium and Medium firm | 9,10 and 12 inches |
| Cal. King | 72″ X 84″ | Medium and Medium firm | 9,10 and 12 inches |
| Split Cal. King | 36″ X 84″ (x2) | Medium and Medium firm | 9,10 and 12 inches |
Showing 1 to 9 of 9 entries
As you can see there are many options to choose from and what I like is that in the Queen, King and California King you have the option to choose between one mattress or two different mattresses.
This option gives both partners to choose between a different firmness.
Like to Find The Lowest Price? Click Here!
Botanical Bliss Medium and Med-Firm
I think it needs a little more explaining what the difference is between these two options since it confused me at first.
Looking at these two options it shows that for most people the Medium option is the best one. The med-firm is better suited for people who are heavier or sleep on their back or stomach.
Botanical Bliss Cover
In my opinion, one of the important parts of a natural or actually any mattress is the cover. This is after all the part you lay one. For the Botanical Bliss, this is the first layer.
This is a 100% organic cotton cover that has Joma wool (1) on the inside. This combination turns it into a cover that combines the plush and softness of the cotton and the coolness of the wool inside.
Prices of the Botanical Bliss
The prices I found in the PlushBeds reviews I did that prices are higher than regular latex mattresses but that makes sense to me if you realize that they are made of all organic and natural materials.
The prices are depending on the size and thickness you choose and it is impossible for me to give the exact dollar amount here since the PlushBeds company has sales and offers all the time.
If you have trouble making this big of payment then you should have a look at the financing option on the PlushBeds website
You can find the lowest price here!
Shipping
Shipping is Free
I have to add this is only for the contiguous United States.
The Plushbeds mattresses do not come from a warehouse where they have them sitting on a shelf.
Each and every mattress is made after you order it.
Because of this custom-made fabrication process shipping will take most of the time between 7 and 9 business days. If you have a more custom order a longer period may apply.
Pros and Cons
Like any other product, there are pros and cons. Here is a list of the pros and cons I found for the Botanical Bliss from the PlushBeds company.
High quality
100% natural
25-year warranty
Many customization options
Hardly and motion
I would like to give my opinion about the price. In my opinion, this is not a con. It is just the price you pay for quality.
People spend a fortune on a cat that they drive only a few miles a day sometimes.
Spending what I call a fair price on something you use most of the time 6 to 8 hours a day and can have a huge impact on your health is not expensive.
Who is the Botanical Bliss for?
This mattress is perfect for you if you see values in the following:
You love natural products
You need extra soft or extra firm
You like to have temperature control
You like moisture control
You want the best.
Warranty
If you have a good look at the PlushBeds warranty you almost can not go wrong with purchasing these mattresses.
PlushBeds come with a 25-year warranty.
This outstanding warranty covers a repair or replacement of the defects in the mattress totally free of charge.
Where to buy
I have not found any other place to purchase a PlushBeds mattress other than on their own website.
This ensures taking out any middle man that can make the price higher and it also will get you the lowest price and latest discount.
Click Here to find the lowest price!
Plushbeds Botanical Bliss Review – Summary
After reading and writing for a long time to make this Botanical bliss review as complete as possible I can only say that this is one of the best mattresses to buy.
There slowly is a developing going on by consumers. More and more are realizing that natural and organic is the way to go and mattresses are no exception they were.
We all now understand the health benefits of having a good night's sleep and to ensure this you need a good mattress to start with.
If this is also your opinion or if you just am tired of sleeping on, what some people call a toxic mattress, the Botanical Bliss is one of the best mattresses I can highly recommend.
It is highly adjustable to your personal wishes and by doing this you will sleep a lot better.
I read about the price is steep but I explained earlier that with all the natural and organic products and the fact that they are custom made for you, the price is actually very low.
Thank you for reading this far down my PlushBeds Botanical Bliss review and I hope you found all the answers you were looking for.
If you are still on the brink about if this is the model for your way of sleeping you can have a look at the other Plushbeds models I reviewed.
This model is wool-free and comes with all-natural latex. it is also recommended as a good mattress for children.
This model offers a little extra support and will not disturb your partner.
If you are looking for the price of the Botanical Bliss and all the possible configurations to make your perfect mattress click on the link below.
If you have any questions or anything to add to my writing feel free to contact me.
Eddie Vandam
Eddie Vandam realized when he was getting older that it was hard to find information about products for seniors and decided to share his experiences here on the website to help others. Read more.